LGV mechanic or HGV mechanic: which is right for me?
When you work as a mechanic, every day is different, so you'll never be bored. There's also plenty of opportunity for progression, and with so many different types of vehicles out there, you're sure to find the right opportunity for you.
At M&E Global, we recruit for and currently have open jobs for a variety of mechanic roles, including LGV mechanics and HGV mechanics. So read on to find out which is right for you!
Why work as a contract mechanic?
As we said above, there are plenty of benefits to working as a mechanic. Whether you work as an HGV mechanic or a LGV mechanic, you'll have the chance to work on a variety of equipment.
What's more, should you choose to work as a contract mechanic with M&E, you could even work on highly specialised vehicles that very few people ever get to see in their lives - let alone work on!
Plus, you can further boost your CV by working on other support equipment such as generators, compressors, and excavators too and in some cases, we do enable On the Job Training so that you can progress your knowledge and skills beyond the role you originally started in.
LGV versus HGV: what's the difference anyway?
The difference between working as an LGV mechanic or an HGV mechanic is essentially down to the type of vehicles you work on. LGV stands for light goods vehicle, whereas HGV stands for, you guessed it, heavy goods vehicle.
When you work as an LGV mechanic (also known as a light wheel mechanic) you will work on smaller vehicles such as cars and vans (including any vehicle up to 3.5 tonnes), whereas when you work as an HGV mechanic as a defence contractor, you will be working on bigger vehicles such as lorries and even tanks.
LGV mechanic role and responsibilities
As a light wheel mechanic, your role will involve servicing and maintaining smaller vehicles.
You'll be responsible for inspecting, maintaining, and repairing the mechanical parts of vehicles and performing maintenance and recovery operations, whilst other duties can also include inspections and troubleshooting systems, performing maintenance on internal vehicle components, replacing vehicle parts and testing components for defects.
You'll typically be working on a variety of smaller vehicles but could work on equipment such as Humvees too - so you'll have plenty of opportunities to expand your CV and further your skill set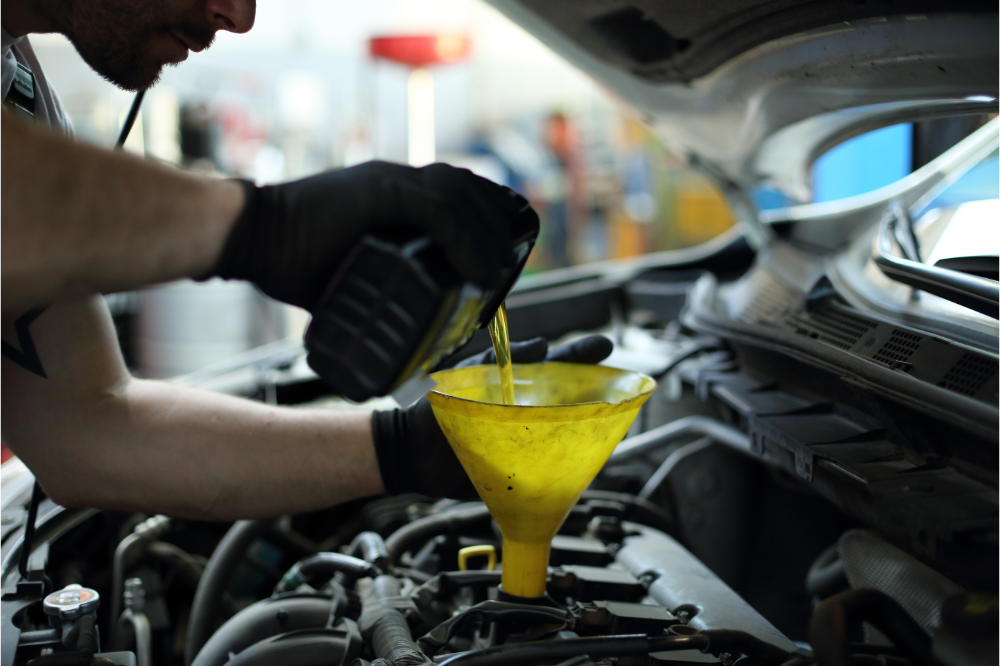 HGV mechanic roles and responsibilities
Similarly to an LGV mechanic, when you work as an HGV mechanic you are responsible for repairing, maintaining, and testing heavy vehicles.
Plus, as an HGV mechanic, you should be able to demonstrate a strong knowledge and understanding of the fundamentals of HGV technologies, HGV configuration and applications, as well as how to service, inspect, maintain and repair vehicles to industry standards.
One of the biggest appeals of becoming an HGV mechanic with M&E is the types of vehicles you get to work on, with the possibility of moving up from wheeled vehicles to tracked vehicles such as Challenger tanks, M1 tanks, and Bradley Fighting Vehicles for example.
LGV and HGV mechanic qualifications
What qualifications do you need to become a mechanic? Well, in addition to GCSEs in literacy and numeracy, to qualify as a mechanic you'll also need a diploma.
After completing your initial training, obtaining further qualifications such as the Level 3 Advanced Apprenticeship in Engineering Maintenance or the Level 5 Higher National Diploma in Engineering could help you to set yourself apart from the competition.
You'll also be able to choose whether you focus your studies on light or heavy vehicle maintenance and repair.
So, which is right for me?
Ultimately, whether you decide to become an LGV or HGV mechanic depends on the type of vehicles you want to work on and the level of experience you have.
Generally speaking, working on HGVs requires more specific experience - however, there's nothing stopping you starting out as an LGV mechanic and then progressing to become an HGV mechanic.
In fact, one of the best things about contract mechanic roles is that you can strategically choose your roles to climb the career ladder and get to where you want to be.
Mechanic opportunities with M&E Global
At M&E Global, our roles range from working with light wheeled vehicles to heavy vehicles and track vehicles, and there is also the opportunity to work on other support equipment such as generators, compressors and excavators.
If you are thinking about working as a mechanic and want to find out more about how we can help with your HGV mechanic career, our expert team is always on hand to provide specialist advice.
With more than 20 years of experience, we are experts in defence recruitment – so you can rest assured you'll be in safe hands with our capable team.
Contact us today to find out more, or alternatively, why not have a look at the mechanic roles we are currently working on to see if they are a good fit for you?