5 skills every defence aviation mechanic needs to thrive in 2023
Working as an aviation mechanic is a great job. Not only is the industry dynamic with plenty of opportunities to progress, but it is also an incredibly rewarding role with plenty of variety.
In fact, when you work as a defence aviation mechanic, you could end up working on some of the most exciting aircraft in the world.
So, whether you're thinking about entering the industry and are wondering how to become an aviation mechanic or want to keep progressing in your current aviation role, read on to discover the skills you need to thrive as a defence aviation mechanic…
5 skills you need to become an aviation mechanic
1. Problem-solving skills
When you work as a defence aviation mechanic, every day is different. From pre-flight checks and minor avionics to maintenance, diagnosing faults, and carrying out repairs, there's plenty to keep you busy – and with so much to think about, problem-solving skills are one of the most important skills you can have.
A strategic, systematic approach to solving problems is essential for a career as an aviation mechanic, so if you want to thrive in your role, you need to be able to resolve issues or problems and keep calm under pressure.
2. Attention to detail
In a similar vein, attention to detail is an incredibly important skill to possess too. After all, when you are inspecting and repairing aircraft, you need to be aware of all the intricate parts and details that make up the equipment – which is why precision and accuracy are key.
Essentially, it's your responsibility to ensure that aircraft are safe to fly - so attention to detail is a vital skill to have if you're going to thrive in the industry!
3. Decision-making skills
You'll also need to use your problem-solving skills and attention-to-detail to make effective decisions, fast. When you work as an aircraft mechanic, you need to assess the information you have available, understand the task at hand, and make decisions about what to do next.
You'll often have to make decisions under pressure and in a fast-paced environment, so you need to be comfortable with making decisions and justifying them if needed - so the ability to quickly assess a situation is essential if you are going to find success as a defence aviation mechanic.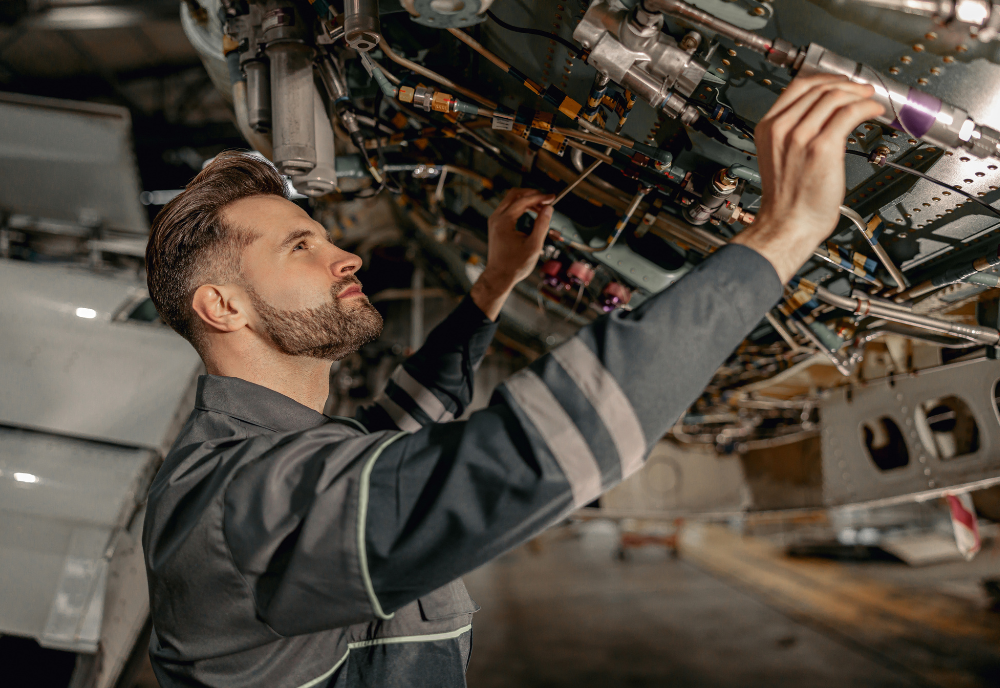 4. Communication skills
Although you often need to make decisions on your own, you'll also have to work comfortably with other people in a team, which is why good communication and relationship-building skills are necessary too.
Teamwork is a skill that lies at the heart of the defence industry and when you work as an aviation mechanic, you will need to be able to work with your team to meet your goals and hit your targets. So, if you are going to thrive in your role, you'll need to have excellent communication skills.
5. Flexibility
As we said above, working in aviation is incredibly varied and every day is different. From troubleshooting and repair procedures to maintenance test flights and operational checks, no two days are the same.
Plus, with the constant progression in aviation technology, the tasks you will be completing will change with the development of new and exciting aircraft systems - so, if you're going to be able to thrive in such an environment, it's important that you are flexible.
Also, the aviation industry can be fast-paced and last-minute changes are sometimes inevitable, which means it's really important to be quick on your feet and able to adapt easily.
How to build your skills
If you're keen to continue developing your skills and learn new areas of expertise, overseas contracting is a great way to do so. When you undertake a defence aviation contract role with M&E Global, you'll be working at the forefront of technology on some of the most exciting equipment in the world.
Plus, many of our roles are based in Germany, a nation that is renowned for their expertise and quality in defence engineering. So, if you want to improve your skills and learn form the best, there's no better place to be!
Ready for your career to soar?
At M&E Global, we are experts in defence recruitment. With over 20 years of experience, we work with a variety of well-respected clients all across the globe. So, if you're keen to further your career as a defence aviation mechanic or want to find out more about how to become and aviation mechanic, you've come to the right place.
Have a look at the aviation roles we are currently working on here, or for more information on how we can help you find your dream role, contact our team today.