What equipment will I work on as a helicopter mechanic?
Why work as a helicopter mechanic?
Well, for starters it's an incredibly exciting and varied role.

As an aviation mechanic, you could be working on a different job every day from line duties such as pre-flight checks, minor avionics and refuelling to base maintenance in a hangar, where you may be diagnosing faults and arranging repairs.

There are also incredible progression opportunities, and if you undertake a contract mechanic role with M&E Global, you will have the chance to work on some of the most exciting aircrafts in the world, such as Apaches, Chinooks – and possibly even Black Hawks.

Sound interesting? Then find out more about the types of helicopter mechanic contract jobs available below...
Opportunities with M&E
Without a doubt, one of the best things about contracting with M&E is that you will have the chance to work at the forefront of technology.

We often find that British mechanics are limited to working on British aircrafts, however at M&E, our overseas helicopter mechanic contract jobs give you the chance to work on exciting equipment from all over the world – all the while having the chance to experience life in a different country too!

So, if you're interested in finding out more, read on for examples of the types of aircraft you can expect to work on as a helicopter mechanic with M&E…
3 types of aircraft you can work on as a helicopter mechanic with M&E:
1. CH-47 Chinook
Made by Boeing, the CH-47 Chinook is one of the world's most impressive flying machines, and is known as the 'workhorse of the sky'.

It's estimated that there are more than 1,200 operational Chinooks in the world, and they are used by the armed forces in the UK, United States, Canada, Australia, Japan and Italy. The CH-47F is an advanced multi-mission helicopter, meaning it is adaptable in all different kinds of operations.

It is powered by two Honeywell T55-L-714A turboshaft engines, each rated at 4,168shp maximum continuous power. Each of the rotors is 60ft across and, while the rotors are turning, the aircraft is nearly 19ft tall.

Despite its vast size, it is highly manoeuvrable – and as such, it is renowned for its excellent capabilities in military and logistical operations.

In fact, the Chinook can operate from land and sea and fly into a range of diverse environments, and because it's also being continually updated with the very latest technologies, it is an incredibly exciting aircraft to work on. 

If you're interested in working as a Chinook Mechanic, you'll need to have an in-depth knowledge of the aircraft, be up to date on the latest aviation technologies and have a high level of experience in aviation mechanics.

Generally, you will need to have a minimum of 12 months experience working in general maintenance on this particular aircraft, and further aircraft experience is also highly desirable.
2. AH-64 Apache
The world's most advanced multi-role combat helicopter, the AH-64 Apache helicopter is often referred to as a 'flying tank' and is described as the most durable helicopter in aviation history.

The Apache is popular across the world for its impressive on-board systems. Its main role on the front line is to hunt and destroy tanks – and it is also designed to survive heavy attacks while operating in all weathers.

The Apache has been an active part of nearly all U.S. Army operations since its introduction, particularly in Iraq and Afghanistan.

It joined service in the UK armed forces in 2001, and preparations are underway to use the new AH-64E model, which is capable of carrying more weapons while being more fuel efficient.

Currently, the Apache has two engines and is capable of speeds of up to 330 kilometres per hour with a range of 475km, meaning it can fly a considerable distance before it needs to be refuelled.

It also carries 16 Hellfire missiles, 76 2.75 CRV-7 rockets, 1,200 30mm cannon rounds and four air-to-air missiles.

If you are interested in working on a machine such as an Apache, you will need to have in-depth knowledge of the newest technologies as well as a strong background in aviation mechanics.

You'll also need to have at least 12 months experience in general maintenance on the aircraft, but it's definitely worth the hard work.

In fact, many aviation mechanics aspire to work on high-powered machines such as the AH-64 Apache because it's such an exciting career path that can lead to even more skilled job opportunities further down the line.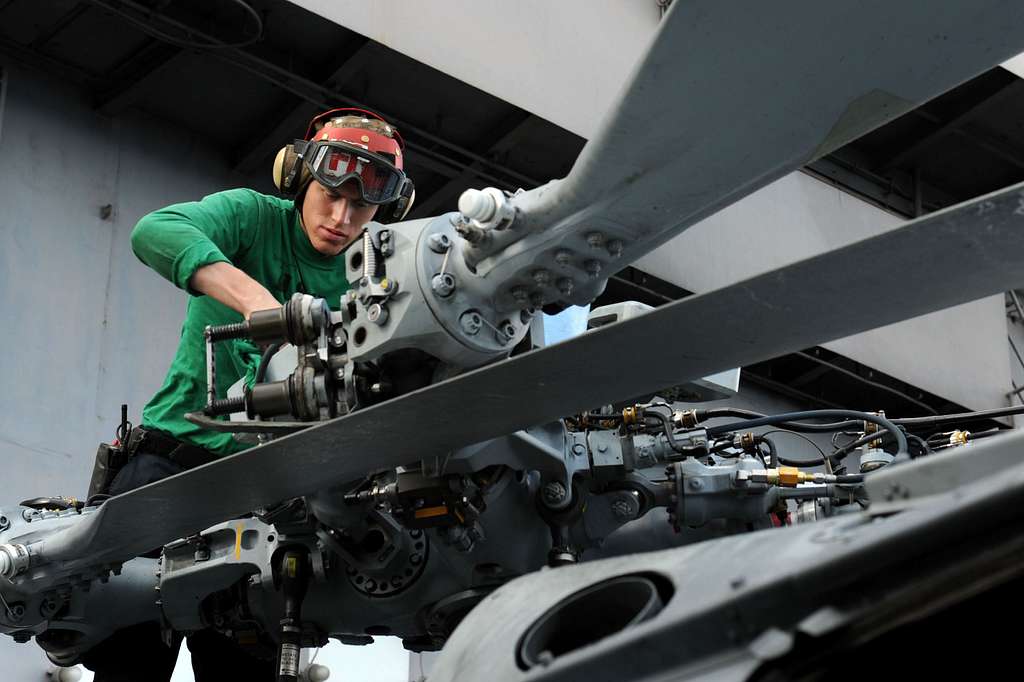 3. Black Hawk
Finally, we have the Black Hawk. The UH-60 Black Hawk is the US Army's front-line multi-mission utility helicopter and one of the world's most revered aircrafts. It has been operational since 1978 and is used for air assault, air cavalry and aeromedical evacuation.

The primary mission of the Black Hawk helicopter is as a troop carrier and logistical support aircraft. In addition, however, the helicopter can be configured to carry out medical evacuation, command-and-control, search-and-rescue, armed escort, electronic warfare and executive transport missions.

Known for its speed, lift, and safety, there are more than 4,000 UH-60 Black Hawk helicopters in operation worldwide.

The Black Hawk has served as the primary medium lift, multi-role helicopter for the US Army for nearly half a century, and with planned upgrades on the horizon such as the Improved Turbine Engine the Black Hawk is set to be a key component of the US Army Aviation fleet until at least 2054.

It is designed to carry 11 combat-loaded, air assault troops, and it is capable of moving a 105-millimeter howitzer and 30 rounds of ammunition. Powered by two General Electric T700-GE-700 1622 shp turboshaft engines, the Black Hawk has a speed of 163 mph.

As with all our contract roles, if you're interested in working on a Black Hawk, you'll be required to have an in-depth knowledge of the aircraft as well as previous experience as an aviation mechanic.

Generally, our clients like contractors to have a minimum of three years' experience with 12 months experience on this particular aircraft, and you'll also need to be up to date on aviation technologies.
 Is your career ready for take-off?
If you have the correct experience and are ready for your career to soar, why not consider a contract role with M&E?

At M&E, we recruit contract workers for a range of helicopter mechanic contract jobs, from sheet metal technicians to aircraft mechanics and engineers – and because the UK has a skill shortage in this area, the demand for skilled technicians is high.

With an array of exciting opportunities on offer, you could have the chance to work on different equipment from all over the world and develop your career exponentially.

Our dedicated team will be more than happy to help – in fact, we pride ourselves on matching each candidate with the right job and as such, we are here to guide you through every step of your job search, from writing your CV to interview advice.

So, contact us today to find out more about the helicopter mechanic roles we are currently working on.