Made by Boeing, the CH-47 Chinook is one of the world's most impressive flying machines.
Despite its size and weight, the aircraft is highly manoeuvrable and is renowned for its capabilities in military, logistical and small airfield operations.
One key aspect of the Chinook is that it is particularly capable in vertical operations, where space is tight as it can take off and land in a very small area. Because of this, it is known as the 'workhorse of the sky'.
So well-liked is the aircraft that a popular phrase is that 'the answer is a Chinook, now what's the question?'. It's estimated that there are more than 1,200 operational Chinooks in the world.
The tandem rotorcraft remains a go-to aircraft for a range of scenarios, both in theatre and in non-combat roles, and is used by the armed forces of around 20 countries including the UK, United States, Canada, Australia, Japan and Italy.
In this post, we learn more about the Chinook helicopter, its background, components and how to work on Chinook helicopters as an aviation mechanic.
What is a Chinook and what does it do?
Background
The CH-47 is known as the workhorse helicopter of the RAF and has been in service since before the Vietnam War. It's even forecasted that it may still be assisting the US military in life-saving missions into the 2060s.
In the late 1950s, the US Army commissioned the aviation company Vertol to produce a new lift helicopter, capable of medium to heavy loads.
In 1960, the company was then acquired by Boeing – famous for its aircraft expertise – which continued to develop the aircraft that later became known as the Chinook.
The first models were delivered to the American military as early as 1962, ready to be pressed into service in the Vietnam War.
Since its inception, the aircraft has seen plenty of action around the world and played a prominent role in the Vietnam War, the Falklands campaigns and missions in Kosovo, Sierra Leone and Afghanistan.
It has endured for so many decades due to its good aerodynamics, excellent capacity and easy manoeuvrability.
Today, the helicopter is still manufactured in the USA, though the UK's fleet of helicopters is maintained by Boeing and a number of other partners at its HQ in Gosport, Hampshire, which is close to the RAF's Odiham base.
Many of the aircraft are still used overseas by the RAF and US Army, and they can be frequently seen in the Middle East during manoeuvres. The helicopter may have had a number of modifications over the years, but it remains a stalwart of military operations.
Foundations of a Chinook helicopter
The CH-47F is an advanced multi-mission helicopter, meaning it must be adaptable in all different kinds of operations. It can operate from land and sea and fly into a range of diverse environments, from snowy Arctic landscapes to barren deserts or humid jungles.
The aircraft is mainly used for trooping, resupply and battlefield evacuations – it can carry up to 55 troops or around 10 tonnes of mixed cargo – but is also used for search and rescue.
It's a very popular lifting machine, with a triple-hook external load system, internal cargo winch, roller conveyor fit and large reserves of power. With all this, the aircraft can lift a wide variety of underslung or internal freight, including vehicles.
The helicopter is powered by two extremely capable Honeywell T55-L-714A turboshaft engines, each rated at 4,168shp maximum continuous power. Each of the rotors is 60ft across and, while the rotors are turning, the aircraft is nearly 19ft tall.
The Chinook is continually being updated with the very latest technologies; the latest model, the Mk6, now has a maximum speed of more than 186mph, a mission radius of 200 nautical miles and a maximum load of 11 tonnes.
Inside, the Mk6 is packed with high-tech equipment, including defensive systems, interoperable communication and navigation equipment. It has also been upgraded with a digital glass cockpit and a Digital Automatic Flight Control System (known as DAFCS and pronounced 'daffics').
In addition to the Mk4 and Mk6 aircraft, there is an extended range Mk3 Chinook which is known as a 'fat tank' and is designed to carry double the fuel load of a standard Chinook. The newer versions of these aircraft have been upgraded to a digital glass cockpit configuration and are known as a Mk5.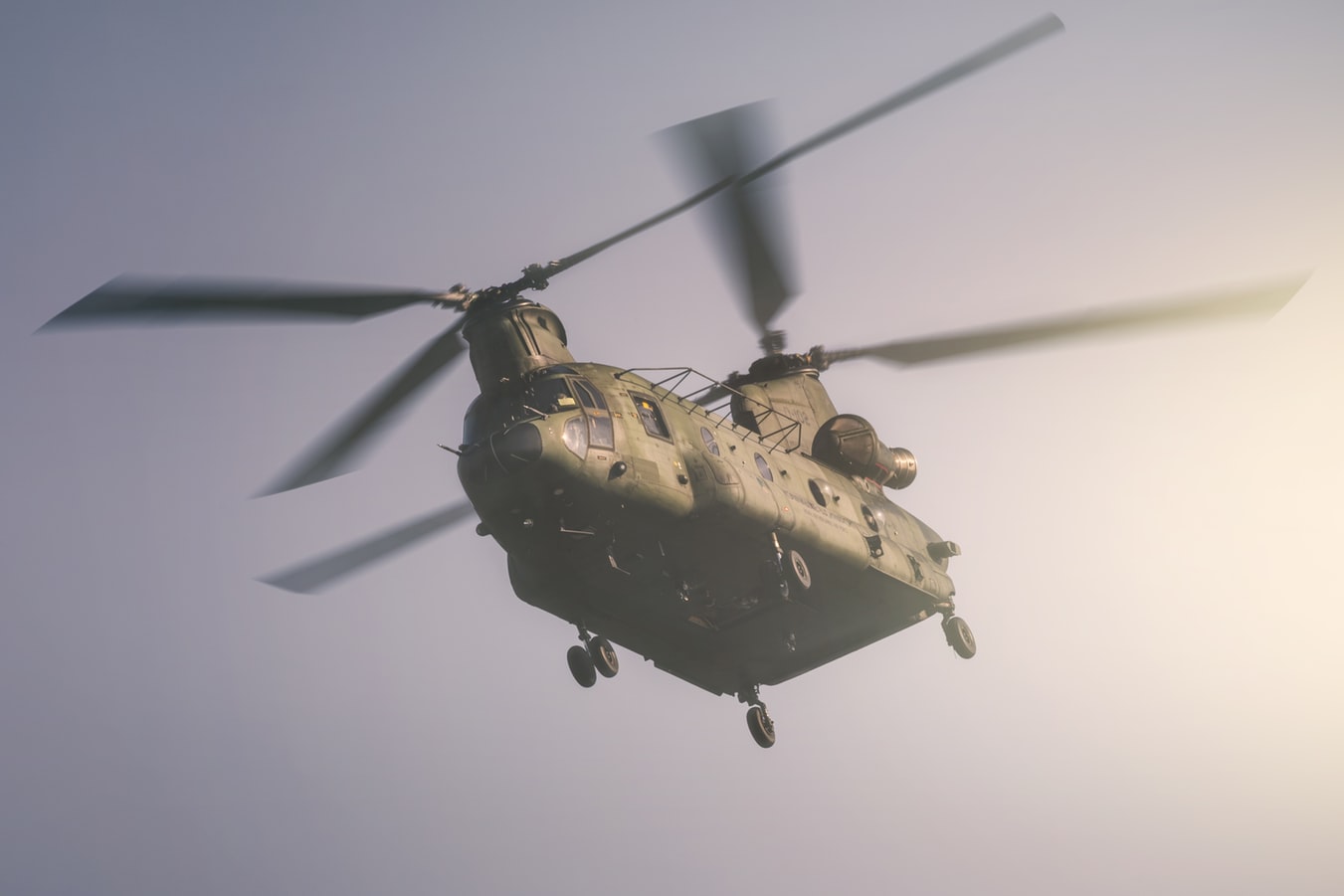 Crew of a Chinook helicopter
The crew of a Chinook helicopter comprises two pilots and two crew members, with space for an observer in the cockpit. However, this is adaptable and will usually be supplemented by specialists depending on the requirements of the mission; this could be a weapons system operator or a casevac specialist.
Of course, for these aircraft to remain in service uninterrupted they require a fleet of experienced support crew, from aircraft mechanics to avionics specialists and fuel technicians.
Opportunity to work on a Chinook helicopter
If you've been considering a move into overseas aviation contract jobs, working on a Chinook may be a role that suits you.
You'll be required to have an in-depth knowledge of the aircraft, be up-to-date on the latest aviation technologies and have a high level of experience in aviation mechanics.
Generally, this is a minimum of 12 months working in general maintenance on this particular aircraft, with further aircraft experience also highly desirable.
For many aviation mechanics, working on high-tech machines such as the Chinook is a dream job – it's a very exciting career path which can take you around the world and lead to more skilled job roles in the future. Plus, the rates of pay are very competitive.
If you're looking for a contract job overseas, we are actively recruiting for a number of different aviation mechanic roles with the chance to work on exciting machinery such as the Chinook helicopter. Take a look at our current aviation vacancies on our website and contact us with any questions you might have.
We'll find you the perfect role, taking the time to get to know you, your skills and what you, personally, can bring to the role, which is what sets us apart from other recruiters. Get in touch today!