What is an Apache helicopter and what does it do?
The world's international defence forces use a variety of different aircraft, but there is one that unites many different territories: the AH-64 Apache helicopter.
It's the most advanced multi-role combat helicopter and is made by Boeing, which has delivered more than 2,200 Apaches since it entered production in 1975. While it operates in the sky, the AH-64 Apache helicopter is often referred to as a 'flying tank.'
However, its main role on the front line is to hunt and destroy tanks – it's designed to survive heavy attacks while operating in all weathers.
The most popular customer of the Apache helicopter is the U.S. Army, whose Apache fleet has accumulated over 4.2 million flight hours since the first model was delivered in January 1984. This year, the first Apache helicopter was formally handed over to the Indian Air Force.
The Apache is popular across the world for its impressive on-board systems, be that flight, weapons, sensors and armour – it's a remarkable piece of technology. In this post, we discover the Apache helicopter, its background, components and how to get a job on Apache helicopters as an aviation mechanic.

Background of an Apache helicopter
The very first Apache took to the skies as a prototype in 1975 as the YAH-64, and a year later began full-scale development.
In 1982, the Apache programme – then known as AH-64a Apache – was approved by the U.S. Army, and the first deliveries of the helicopter left the plant in Mesa, Arizona two years later.
In order to save costs and simplify logistics, the Apache was built with the same T700 engines as the U.S. Army's Sikorsky UH-60 Black Hawk utility and SH-60 Seahawk naval helicopters.
The helicopter has been modified and improved over the years, but remains the workhorse of many international defence forces to this day. It has been an active part of nearly all U.S. Army operations since its introduction, particularly in Iraq and Afghanistan.
The Apache joined service in the UK armed forces in 2001, with the first eight helicopters built by Boeing and the remaining 59 assembled by Westland Helicopters in Somerset.
Today, the force is preparing to use the new AH-64E model, which is capable of carrying more weapons while being more fuel efficient. It will enter service in 2022. The Apache can operate in more demanding conditions for longer than ever before.
Foundations of an Apache helicopter
With two impressive engines, the Apache is a powerful machine, capable of speeds of up to 330 kilometres per hour with a range of 475km, meaning it can fly a considerable distance before it needs to be refuelled.
The helicopter is also extremely mobile, able to manoeuvre in all weather conditions, making it a workhorse that's ideal for a vast number of territories.
Despite being light (if you can call 7,746kg light) and agile, the helicopter is designed for use under fire and can withstand rounds as large as 23mm. For armament, the helicopter is packed with missiles designed to seek out and destroy tanks.
Typically, the Apache carries 16 Hellfire missiles, 76 2.75 CRV-7 rockets, 1,200 30mm cannon rounds and four air-to-air missiles.
During its 50-year history, the Apache has seen several modifications, including a 'Longbow' edition. From the original model to the newest version (AH-64E), the main changes have been:
The Block II, with advanced electronics, digital enhancements and communications upgrade, in 2003

The Block III with superior flight performance and increased network communications, in 2011 – later renamed the 'Guardian'

And all-new fuselages and modifications to the avionics bays in 2012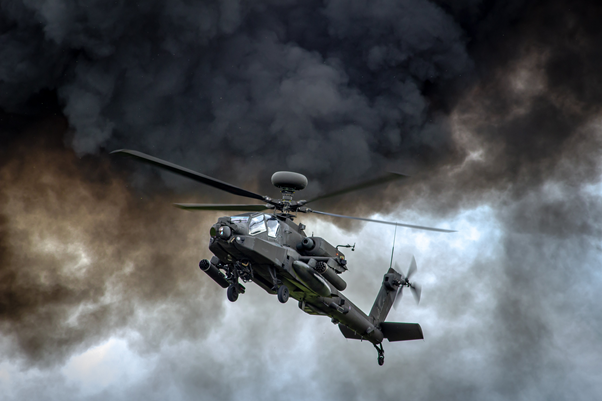 Composition of an Apache helicopter
The Apache is described as the most durable helicopter in aviation history, and this is possibly thanks to its superior build quality.
The helicopter wouldn't be able to get off the ground without its rotors, and each Apache – both the standard Apache and the Apache Longbow – use a four-blade articulated rotor system powered by two engines, either General Electric T700-GE-701 1698 shp turboshaft or 850SHP Rolls Royce RTM-322, each of which generates approximately 1,700 horsepower.
Each blade measures six metres long and is adjusted by a swash plate mechanism, which changes each blade's pitch to increase lift.
The blades are constructed from stainless steel spars surrounded by a fibreglass skeleton, with the edges covered by graphite composite and titanium – strong enough to withstand brushes with trees and other minor obstacles.
The helicopter can also withstand rounds of up to 23mm due to its armour, including Kevlar soft armour for additional protection.
The cockpit is protected by several layers of reinforced armour and bulletproof glass, with the area surrounding the cockpit designed to crumple during collision – as in a car – to protect the pilots. The canopy of the cockpit itself, in comparison, is very rigid.
Crew of an Apache helicopter
The Apache is designed for just a two-person crew: a pilot and a co-pilot gunner, who generally carry out armed reconnaissance missions.
The primary mission of the Apache is to destroy high-value targets with precision strikes, so the aircraft is equipped with radar-guided Hellfire anti-tank missiles – the two crew members are essential in locating targets, with a Target Acquisition Designation System, or TADS, linked to the head movements of the pilots.
Essentially, the cameras point where the pilots are looking. This extremely valuable system also includes a night-vision sensor, laser range finder and laser target designator, a thermal imaging infrared camera and a daylight television camera; images from the TADS can be viewed on the helmet-mounted optical sights of the crew.

Of course, the helicopter requires a separate crew of experienced aviation mechanic to maintain and prepare the aircraft for operations – an incredibly varied and exciting role, involving maintenance and repair of everything from engines to flight controls, as well as pre- and post-flight inspections, regular maintenance checks and updating records.
Your opportunity to work on an Apache helicopter
If you are interested in helicopter mechanic jobs, you'll need to be a highly skilled individual with near-perfect attention to detail.
Operating on a machine such as an Apache requires you to have in-depth knowledge of the newest technologies, and you'll need a strong background in aviation mechanics, with at least 12 months experience in general maintenance on the aircraft.

Many aviation mechanics aspire to work on high-powered machines such as the AH-64 Apache: it's an exciting career path and can lead to more skilled job opportunities.
At M&E Global, we are actively recruiting for a range of different mechanic contract jobs, including the chance to work on exceptionally advanced machinery like Apache helicopters.
To find out more about our current aviation vacancies, take a look at our website and feel free to contact us with any questions you may have.
We're not like other recruiters – we take the time to get to know you as a person, to understand what your skills are and what you can bring to a role, so we can find a position that's perfect for you.