Interview with an aviation recruiter
Thinking about leaving the armed forces?
If you are thinking about leaving the Armed Forces or are ready for a new challenge in your career, look no further than M&E Global for your aviation job search in the UK or abroad.
We are specialists in defence recruitment and have more than 20 years of experience in placing ex-military personnel into aviation, land and marine roles - so if you are considering applying for a contract role overseas, our dedicated team of recruitment consultants will be more than happy to help.
In this blog, we introduce you to our aviation recruitment expert Shannon Evans who will talk you through all things aviation, from how contracting can benefit your career and the type of roles we typically recruit for to the support and guidance we can provide.
Meet Shannon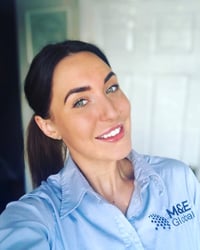 Shannon has been a valued member of the M&E team for nearly two years and is passionate
about recruitment and helping others. She specialises in the aviation sector, working with one of our biggest clients helping them to source the best possible candidates for positions both in Europe and the Middle East. 
Shannon would describe herself as a bubbly, friendly character who is always willing to help anyone achieve their goals, and there's nothing she enjoys more than meeting new candidates and helping them find the perfect contract role to suit their skills. 
Here, she shares her knowledge on the aviation sector and the benefits of contracting overseas with M&E:
1. What type of person would you say is best suited to a role in aviation?
I would say that above all, you need to have a passion for aviation. In addition, it's important to have the right skill set and to have had experience working on Apaches, Chinooks or Black Hawks; our client expects candidates to have a minimum of three years' experience within the last six years on these aircraft types.
2. What kind of roles do you typically recruit for and what kind of equipment can people expect to work on?
We typically recruit mechanics who are responsible for the repair and maintenance of equipment, and electronics contractors who will work on Chinook and Apache helicopters. In addition, we also recruit sheet metal workers who are responsible for fabricating, modifying and assembling various helicopter sheet metal structural parts, components and assemblies.
3. How can contract work further the career of aviation workers?
There are lots of ways that contract work overseas can benefit the career of aviation workers. For starters, there's the chance to work on a number of different contracts in a variety of different locations, and you can develop your experience in each role. You can also work on a range of equipment all over the world, such as Apaches, Chinooks and even Black Hawks, which is a really rare and exciting opportunity. And of course, there's the life experience that comes with working overseas - you can meet new people, grow your network of contacts and improve your interpersonal skills too. 
4. How do aviation candidates go about continuing to develop their professional skills and knowledge while doing contract work with M&E?
One of the most important ways that people can develop their professional skills and knowledge through contracting with M&E is by having the chance to work on equipment that they haven't necessarily worked on before. There is also the possibility of promotion from a Level I Mechanic to a Level II Mechanic position when your initial contract is up, where you will have the chance to manage teams and earn more responsibilities whilst enjoying a pay increase too! 
5. What are the personal benefits of working abroad in an aviation role? How much scope is there to travel?
The possibility of travel very much depends on the type of contract and where it is located. Our contract workers in the Middle East, for example, typically work 12-hour shifts and live on base. However, most Middle East contractors work on a three months on, one month off rotation - so there's the chance to travel and explore during your month off. In fact, a lot of our contractors choose to go to Dubai to experience the high life there during their time off! 
In Germany, on the other hand, our contractors work from Monday to Friday and have the weekends free to explore or travel around as they please, or even head home for the weekend to see family. 
6. What kind of locations can people expect to work in during an aviation contract with M&E?
In Europe, we regularly recruit for positions in Illesheim and Mannheim in Germany, whereas in the Middle East you could have the opportunity to work in Afghanistan, Kuwait or Iraq. 
7. What advice would you give to someone who thinks they might not have enough experience to work in an aviation contract role?
As I mentioned earlier, our client requests that contractors have a minimum of three years' experience in the last six years and most of our aviation contractors will have gained the necessary experience from an army background. However, if you're not sure whether or not you are right for the role, it's always worth speaking to us - you never know, you might meet the criteria! If not, we can help you out and point you in the right direction so you can gain the right experience and qualifications for the future. 
8. What does the first month in an aviation contract role typically look like?
Typically, the first few weeks in any contract role will involve training, getting to know people and meeting the team so you can get a feel for the contract and the location. If someone is contracting in Germany, they usually arrive on a Friday ready to start work on the Monday, giving them the weekend to get settled and to get to know the area. 
On the other hand, contractors heading out to the Middle East will need to spend five to seven days completing a medical in Dubai before flying on to their final destination. 
9. How much support can people expect from their recruiter? For example, do you

offer assistance

with working visas or accommodation?
At M&E, it's really important to us that we support our contractors as much as possible. If we are recruiting for contracts in Germany we don't need to apply for visas, however, our specialist admin team will help our contractors to obtain all of the necessary documents that they need. We also have a team in Germany that can help our contractors source accommodation. 
If we are recruiting for contract roles in the Middle East, our team will apply for visas and book flights on their behalf - and each contractor will always have a dedicated point of contact on base to help them with any questions or concerns too.
10. What are the benefits of using a recruiter rather than looking for a job via job boards or sending CVs out to companies?
I would say that one of the biggest benefits of working with a specialist recruiter for your aviation job search in the UK and abroad is that we simplify information. Job boards can be quite daunting - especially if you are coming out of the forces - with so much information that most people don't know where to start. However, when you work with a specialist recruiter, we will take you through each stage of the application process step by step and are on hand to provide guidance for each role. We also know the industry inside out and have great relationships with our clients, which means we know exactly what they are looking for and why. 
11. What kind of questions can people expect to be asked at an interview?
When you apply for an aviation contract role with us, if you get through to the interview stage you will have an in-depth telephone interview where the client will ask you a number of questions to get to know you and your experience. Questions you can expect to be asked include: what types of aircraft you have worked on in the past, if you know anyone who works in the location and if you are happy to work in the chosen location. They will also ask a number of questions to make sure you know the ins and outs of Apache or Chinook helicopters and to ensure you have the right knowledge and experience. 
12. Finally, do you have any top tips for people thinking about applying for a contracting role?
My top tip is just to go ahead and apply! Even if you aren't right for the specific role you have applied for, a good recruiter will always be able to advise on what to do next. They might even be able to find you a different position in the location you like where you can gain experience and work your way up - so if in doubt, just ask!  
Want to find out more?



From the Middle East to Germany, at M&E we have contracts in a number of different countries and offer a range of aviation contract jobs to aid your aviation job search in the UK and abroad. With expert industry knowledge, we are on hand to guide people through the entire recruitment process. So, if you want to find out more about our current vacancies, don't hesitate to contact a member of our dedicated team today.