5 great reasons to work in Europe as a defence aviation mechanic
Are you an aviation mechanic looking to take the next step in your career?
Perhaps you feel like you've achieved all that you can in your current role, or maybe you're keen to work on different equipment. Or perhaps you've been bitten by the travel bug and are eager to explore more of the world.
Whatever your reason for wanting to move on, why not think about undertaking a defence aviation mechanic role in Europe? Here's five fantastic reasons why you should go for it!
5 reasons to consider a defence aviation mechanic role in Europe
1. It's a wonderful place to live
First things first, why consider a move to Europe in the first place? Well, because it's such a wonderful place to live!
Germany is one of our most popular destinations for defence aviation mechanics. Not only is it well-known for its engineering, but it's also got everything you could want in a country. There are bustling cities, stunning countryside, ski resorts, and even beautiful beaches in the summertime, making it the perfect place to live and work.
2. You can work on some of the greatest aircraft
Fancy working on some of the most diverse aircraft in the world? Then it's definitely time to head to Europe!
Aviation mechanics in Europe could find themselves working on Apache helicopters, Chinooks, or even Black Hawks. And when you live in a region as well known for technological advancements as Europe, equipment is constantly being developed and improved - which means you'll constantly be learning new things and honing your skills.
Mannheim, where many of our contactors are based, for example, is known as the Manhattan of Germany and has a truly innovative spirit. In fact, according to Forbes magazine, it's one of the most inventive cities in the world.
So, if you want to work on a diverse range of aircraft, look no further than defence role in Europe.
3. There's fantastic career progression
This leads us onto our next point: the career progression in the defence sector in Europe is unrivalled. Plus, there's plenty of on-the-job training available too.
Because you'll be working on such exciting aircraft, you can develop your skills with every piece of equipment you work on - and this continuous learning means you'll have all the skills and knowledge you need to progress your career.
Not only that, but when your contract comes to an end, you can strategically choose the next position to help you climb onto the next rung of the career ladder. So, for motivated and ambitious aircraft mechanics, there's really no better place to be than Europe.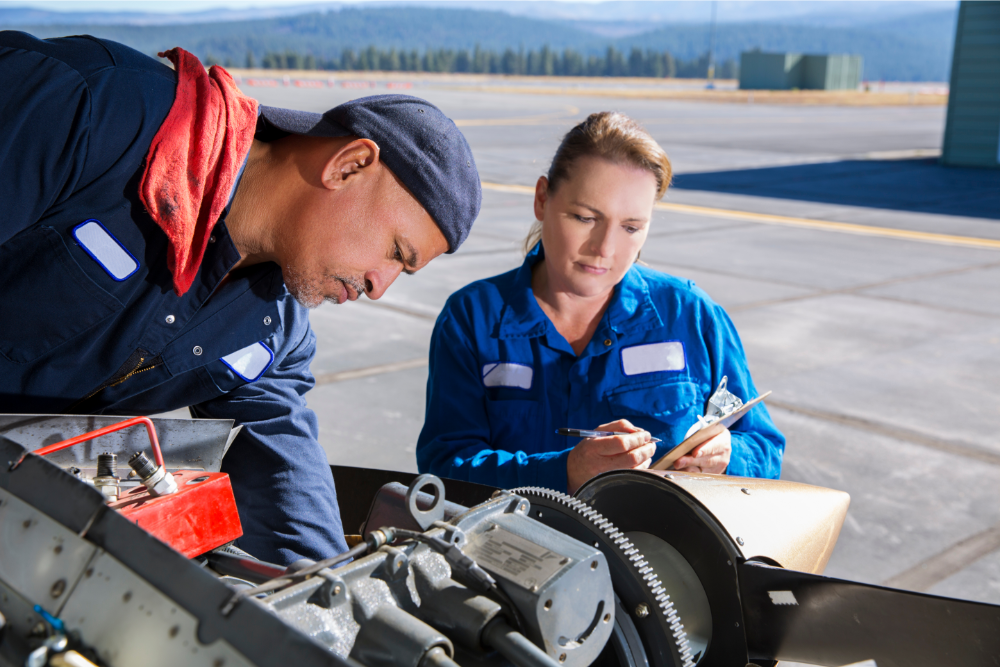 4. You can make lots of money
If one of the reasons you're looking to make a change is financially driven, you'll be pleased to hear that defence contracting in Europe is very well remunerated.
When you undertake a contract role abroad, the pay is always competitive simply because the technical nature of the jobs requires highly skilled workers. As such, the salary is usually much higher than what you would receive back home, and some roles even include a sign-on bonus or a bonus on the completion of your contract.
Because meals and accommodation are often covered or subsidised, you have the chance to save a lot of money too, and generally speaking, the cost of living in Europe is lower than America - so your money will go much further too.
5. It's a great first contract role
If you're thinking about contracting abroad for the first time, Europe is a good place to start. It's a great first destination as you'll never be too far from home!
In fact, Germany is just 2 hours flight from the UK, and you can even drive home from some destinations in Germany, making it the great first step if your goal one day is to venture further afield!
Additionally, it's a requirement for all contractors to speak English on base, and with many postings in Europe there's even the option to take your family with you too.
Are you ready to move your career to the next level?
If you're keen to take your aviation career to the next level and want to find out more about contract roles in Europe, our experienced team will be more than happy to help. So, if you're ready to shake things up and make a change, get in touch with our team today to find out how.
Alternatively, why not download this helpful guide on everything you need to know about working as an overseas mechanic here.