Leaving the military can be a difficult decision.
Whether you've worked in the military for the whole of your career or a shorter period, you'll have adapted to an entirely different way of living to civilians.

For starters, in comparison to the hierarchical, vertical, controlled and consistent structure you'll have grown used to in the military, civilian life is far more flexible and ambiguous, and significantly less defined.

Similarly, civilians will not necessarily have an understanding or appreciation of what army life is like, which can make it difficult to adjust or communicate.

On top of transitioning back into civilian life, you'll also need to decide what you want to do next in terms of your career.

Here at M&E Global, we've supported numerous ex-military personnel as they've transitioned into civilian life; we've therefore shared our top tips below that we'd highly recommend you read if you're looking to leave the military.
1. Prioritise your health and wellbeing
First and foremost, you need to make sure that you have everything in place to take care of yourself, both physically and mentally.

The transition process is particularly lengthy (around nine months), so be sure to monitor how you are feeling regularly, and seek support if you need it.

The first step in the service leavers' timeline is arranging to have a final medical at your current unit, which usually then takes place three months before you leave. In the meantime, if something doesn't feel quite right, be sure to seek medical advice so that you come out at the end of the process physically fit and healthy.

Taking care of your mental wellbeing will make up a significant part of the Career Transition Partnership (CTP), which you will begin around two years before you leave (more on that below).

Until then, be sure to make the most of Op COURAGE, the Veterans Mental Health and Wellbeing Service provided by the National Health Service. Ultimately, the more physically and mentally well you feel, the easier your transition to civilian life will be!
2. Make the most of your transition classes
The CTP, as quoted by gov.uk:

"Assists personnel leaving the armed forces to prepare for entering the civilian job market and to make a successful transition to employment, or achieve the wider vocational outcome they seek."

You can learn more about the courses and resettlement training on the Gov website, but essentially, they provide all the tools, knowledge and support you'll need to enjoy a smooth transition back into a civilian life and career – so we'd highly recommend that you take full advantage of them!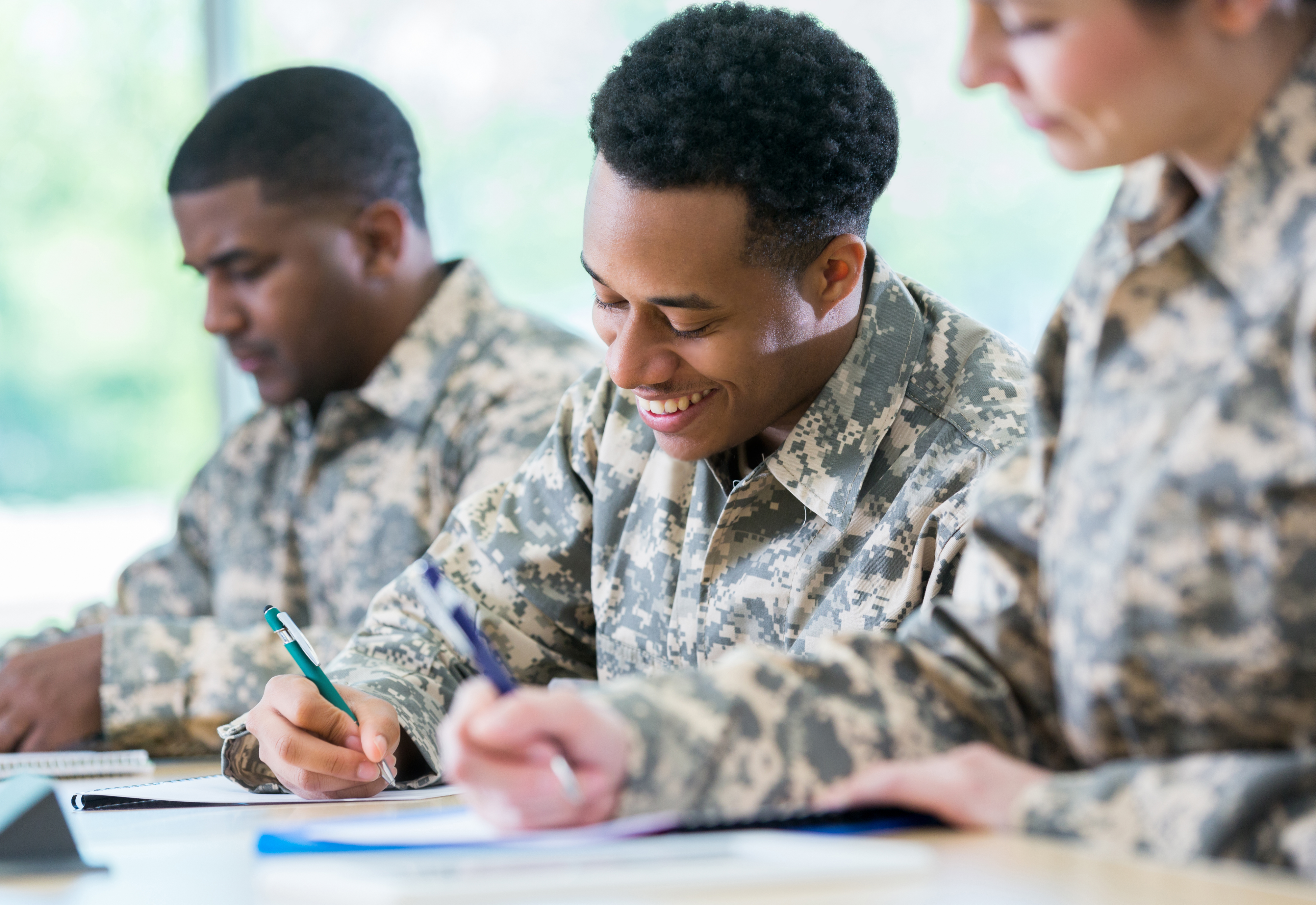 3. Think about what you would like to do next
One of the great things about working in the military is that you'll have gained a wide range of skills that you can utilise within a civilian role.

We've explored some of these skills in more detail in this blog, but in summary, your communication, organisational, leadership, administrative and problem-solving skills will be highly desirable in the civilian workplace.

Have a think about which of these skills (among others) are your strongest, and combine this with your general interests and goals; what are you hoping to achieve from your next career move? And how will your skillset help you get there?
4. Prepare for your new career search
Once you've decided on the kind of role you're looking for after leaving the military, it's a good idea to start preparing for your career search and subsequent job applications. This includes:
Updating your CV
This is an essential part of you getting selected for interviews, so it's important to get this right! Be sure to read our handy blog on CV dos and don'ts for detailed tips and advice.
Writing cover letters
Your cover letter could be the very thing that makes you stand out from other candidates, so take some time over this too.
Practicing for interviews
Ask a friend or family member to play the interviewer and ask you questions, as well as preparing questions of your own to ask employers. Interviews can be nerve-wracking, even if you've done plenty of them before, so make sure you read our blog on calming your nerves before an interview for top tips, too!
5. Find a specialist recruitment agency to support you in your career goals
There are hundreds of recruitment agencies out there; however, it's important that you work with one that has experience in finding jobs for ex-military personnel.

This is because they'll have a good understanding of the kinds of experiences you are likely to have had, and will know where your skills and qualifications will be most desirable.

They'll also be on hand to support you as you begin your new career.
Looking for further advice?
The Ministry of Defence has a detailed guide for service leavers, which we would highly recommend that you download and read after this blog.

However, our specialist team would also be more than happy to have a chat with you about your plans and goals, as well as how they can help you on your search for a new career, so do not hesitate to get in touch.