An interview with an ex-military defence contractor
When it comes to the transition from army to civilian life, it can be difficult to know where to start.
It's such a big change it's no wonder you might be feeling nervous or tense, and it's only natural to have questions.

At M&E Global, we are experts in employing ex-military personnel and placing them into defence contract roles and are proud to have signed the Armed Forces Covenant as testament to our dedication to supporting veterans, such as Adam Lythall. 

Adam is one of M&E's longest serving contractors. Since starting at M&E back in 2016 as a Fuel System Distributor after leaving the military, he has worked his way up and undertaken qualifications off his own back to become an ESOH (Environmental Safety & Occupational Health Specialist) in Mannheim, Germany. 

So, read on to meet Adam, find out more about his current role, his background before joining M&E and his experience of transitioning back to civilian life...
Meet Adam, Contractor with M&E
Hi, Adam! Tell us a bit more about your current role with M&E Global?
I'm currently working as an Environmental Safety & Occupational Health Specialist in the maintenance industry in Mannheim, Germany, whilst also finishing off my bachelor's degree in Environmental Science part time as well. 

I started off at M&E as a Fuel System Distributor after leaving the military in 2016, and due to my background in the military and environmental experience, I became the environmental and safety advocate for my department. So, when the opportunity to work as an ESOH came up, it made sense to go for it!
What do you like best about your role?
Without a doubt it has to be that I can ensure that people are working in a safe and friendly environment and that they have the right PPE and STEP practices in place.

Knowing my staff are safe and are working in a comfortable environment is a great feeling – and seeing as I'm currently responsible for helping to keep 1,400 employees safe, it's fair to say there's a lot of responsibility with this role!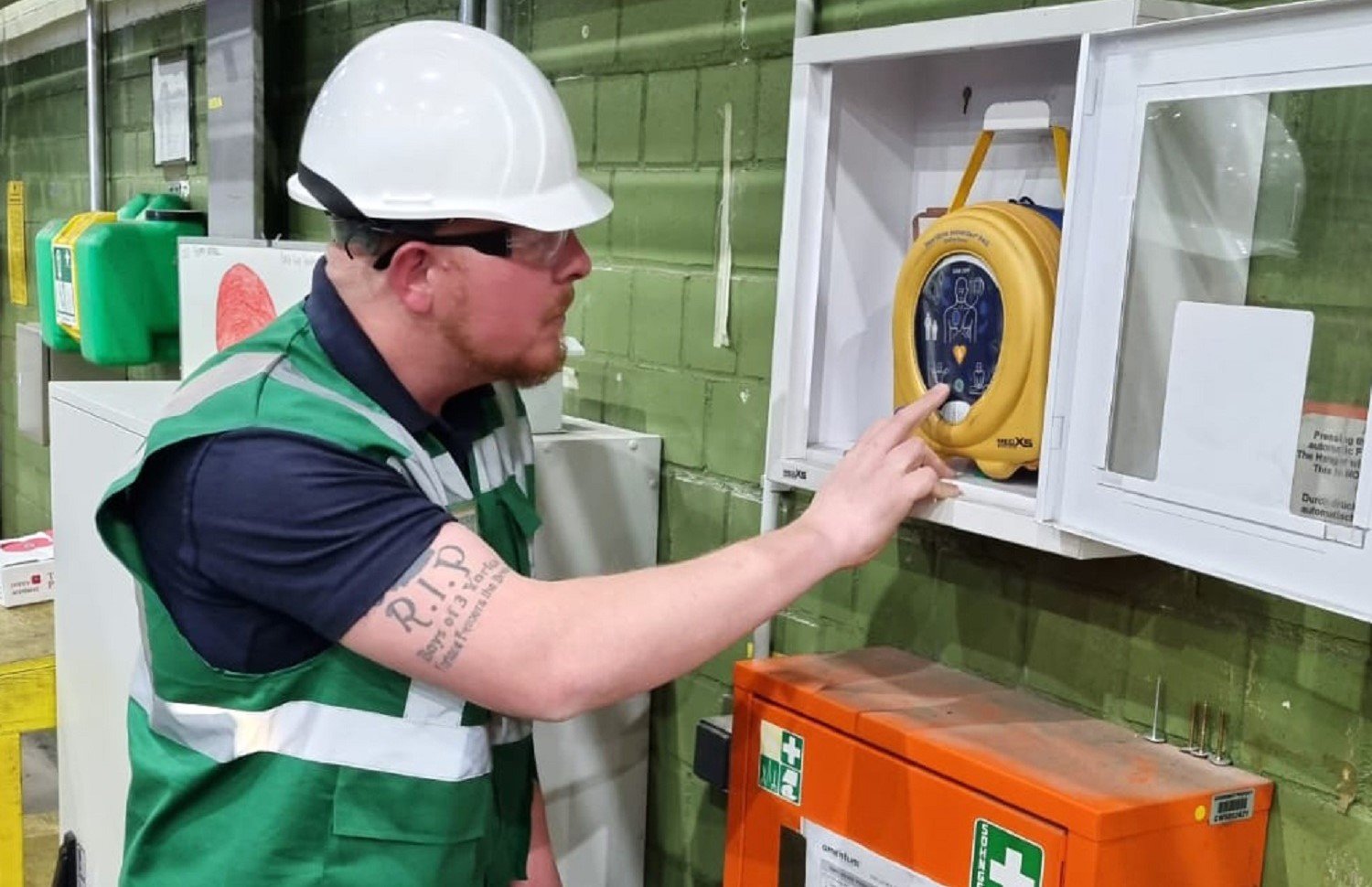 What does a typical working day look like for you?
Mornings will typically start with a bit of admin and answering emails, and then we'll run through daily safety topics with the employees.

The subjects change depending on a number of factors, with topics including hand safety, falling from heights, and in the winter months we might discuss things such as winter safety.

The team will carry out risk assessments in the morning, so I'm responsible for ensuring those are filled out correctly, and I'll also complete inspections on facilities to make sure everyone is following procedures and carrying their job out safely. 

If any accidents do occur, I'm responsible for conducting the investigations to establish what happened and why.
What new skills or training have you undertaken since working with M&E?
There's been plenty of opportunity for continuous learning during my time at M&E, which has been great.

From NEBOSH certificates to environmental stability diplomas, and environmental officer courses to hazardous waste operations training, there's always a chance to learn something new and boost my skill set.

The courses available will depend on what contracts we are currently working on and what we're going to be doing day-to-day. Currently, for example, all the team are undergoing a NEBOSH course and they have all completed health and safety training too.
What are your future career plans and goals?
Pretty much to keep doing what I'm doing and continue to keep moving up! I've always had a keen interest in the Health, Safety and Environmental side of things since my time in the military, so I want to keep developing my knowledge and progressing in this area.
What do you like about living and working in Germany?
I'm really happy with life here in Germany. I've made a lot of good friends, both on the job and locally, and I'm in a relationship here. I've even learnt the language – well two in fact, German and Bavarian!
What did you do before working at M&E?
Previously I was in the military for 13.5 years before being discharged due to medical reasons. I started in the military as infantry, but due to injury I ended up working on the environmental side of things for some of the regiments, which is where I got my interest in what I do now. 

When I was transitioning back to civvy street, I did a few voluntary worker jobs around the UK and heard from a friend that there were some opportunities in Germany. They passed me the contact details of the M&E recruiter in Germany and the rest is history! 
How did you find the transition from military to civilian life?
Well, to be honest, I'd say I'm still transitioning and continue to do so every day. It's a lot easier now, but I definitely found things tough at first. The routine is different, the mentality is different… It's an ongoing thing.

However, working at M&E was without a doubt ideal for my transition. Of all the people who I met when I first started my contract, about 90% were ex-military, so in a way it felt like I'd never left! We had the same banter, the same laughs – it was a real home away from home.

I'm in a really good place now, I've accepted that I'm not in the military anymore and I'm looking forward to what the future has in store.
And finally, what advice would you say to current military personnel who are looking to move back into civilian life?
Don't be afraid to take the leap of faith and try something new.

Never did I think when I first started out as an infantry soldier that I would end up where I am today. There are so many opportunities and experiences out there if you're open to contracting abroad – so just give the transition from army to civilian life a go!
Discover opportunities with M&E Global
Leaving the forces is a big deal – which is why our expert team is here to help you transition from army to civilian life. We will get to know you and your unique set of skills, so we can provide bespoke career advice and help you navigate life on civvy street – and with a wealth of exciting opportunities available, whatever your skill set, you're sure to find the ideal role for you. 

Simply contact us today to get the ball rolling, or alternatively download this guide to find out more about transitioning back to civilian life.