Five famous female engineers who changed the world
From building essential infrastructures to creating products that save lives, female engineers have played an integral role in shaping the world we live in today.
Despite this, engineering is still very much a male-dominated industry, and female engineers don't always get the credit they deserve.

That's why, this International Women's Day, we're sharing the stories of five famous female engineers throughout history to celebrate their successes…
5 famous female engineers to aspire to (in no particular order):
1. Edith Clarke
Often referred to as the very first female engineer, Edith Clarke was born in 1883 and in 1918 became the first woman to earn an electrical engineering degree from the Massachusetts Institute of Technology.

From 1919-1945, Edith worked at General Electric where she became a salaried electrical engineer after just two years of employment (no mean feat for a woman at this time!). Then, in 1921, she received her first patent for the Clarke Calculator, a device which was used to solve electric power transmission line issues.

She also went on to teach electrical engineering at the University of Texas for 10 years, making her the first female Professor of Electrical Engineering in the United States.
2. Emily Roebling
Emily Roebling is best known for her contribution to the construction of the Brooklyn Bridge which was completed in 1883. When her husband, the Chief Engineer of the project, became ill and bed-ridden, Emily assumed responsibility of liaising with the engineering team to keep the project moving forward.

In fact, she became so proficient at project management, construction, and calculations, that she became the standing leader for the bridge's construction.

Once the bridge was completed, Emily was the first person to cross it, acknowledging her essential role in its success. Talk about girl power!
3. Hedy Lamarr
Both an incredible actress and a brilliant female inventor, when she wasn't busy playing the leading lady opposite the likes of Clark Gable and Spencer Tracy, Hedy Lamarr (pictured below) devised a method of encrypting signals to prevent enemy spies from listening to sensitive pieces of information.

Basically, without Hedy, there would be no wireless communication in our world today!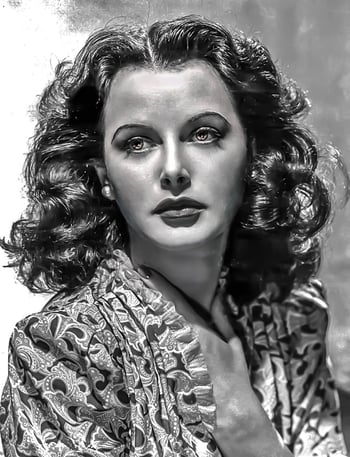 4. Ada Lovelace
Born in the 19th century, Ada Lovelace was Lord Byron's only legitimate child but was rejected by her father at five weeks old.

Her mother then did everything she could to keep her away from poetry and other artistic interests, instead steering her towards mathematics and logic. It worked: Ada became the first person to recognise the potential of the Analytical Engine as a computer-like device.

Essentially, she was the very first computer programmer, more than 100 years before the invention of the computer!
5. Bertha Benz
Although her husband Carl Benz is best known for the invention of the automobile, Carl and Bertha worked together as a team - and Bertha definitely deserves her place in the history books too!

Bertha invested her wedding dowry to help finance her husband's work, but his invention, the Motorwagen, was struggling. So, Bertha decided to take her teenage sons on the world's first long-distance road trip in 1888 to prove to the world that the automobile was safe and ready to sell.

Bertha's 194km trip typifies the fearlessness of automotive pioneers and jump started the era of the automobile, hence her well-earned place on this list of famous female engineers!
Engineering opportunities with M&E Global
If you're feeling inspired by these famous female engineers and are interested in exploring engineering opportunities, why not have a look at the roles we are currently working on.

From marine engineers and safety engineers to aircraft engineers and mechanics, whatever your area of expertise, M&E Global is a renowned defence contractor with a variety of exciting roles available.

We recruit for a broad range of specialisms, from vehicle and aircraft maintenance and land engineering to supply and logistics and infrastructure support.

With more than 20 years of experience in defence recruitment, if you're on the lookout for your next role and ready to boost your skill set, we'll be more than happy to help!