Make 2023 the year you land your dream supply & logistics job. Here's how:
In today's busy world, supply and logistics is absolutely essential. It's no wonder supply and logistics is known as the backbone of modern society!
And with such an important role to play in the world, the range of job opportunities is incredibly broad - so if you're looking for jobs in logistics and supply chain management, you're sure to find a role that interests you.
There are plenty of benefits to working in supply and logistics too, such as highly competitive rates of pay, the opportunity to travel abroad to various locations, and excellent career progression prospects.
So, if you think supply and logistics is the right industry for you, read on to find out how to find your perfect supply and logistics role in 2023!
4 fantastic ways to land your dream supply and logistics jobs
1. Get your CV in gear
If you want to make 2023 the year you land your dream job, first things first, you need to get your CV in order.
Creating an up-to-date CV outlining all of your skills and achievements is without a doubt one of the best ways to market yourself, so make sure you don't miss anything out!
Start with a personal statement to make it clear what type of roles you're interested in. For example, your personal statement could say "Warehouse worker with five years of experience seeking new opportunities in logistics and supply chain management".
Following on from your personal statement, list all of your relevant qualifications, skills, and experience in date order, and make sure you carefully check your CV for any errors or typos too.
If you're struggling to write your CV and need further advice, this handy list of CV do's and don'ts will point you in the right direction!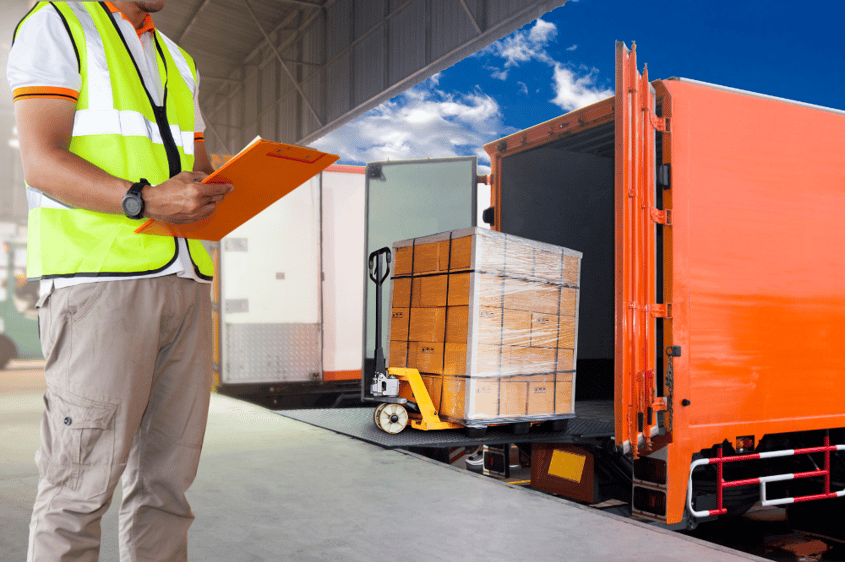 2. Write a cover letter that wows
If you're going to start applying for jobs in logistics and supply chain management, it's not enough to just have a strong CV - you should also write a cover letter too.
Why? Well, for starters, a cover letter is usually the first thing a potential employer sees when you apply for a job. And as the first chance to sell yourself, it's important to shout out about what makes you right for the supply and logistics industry.
Think of your cover letter as a way to expand on your CV. You should include any important roles and notable achievements, and list any skills that are essential to the supply and logistics industry.
Some good skills to highlight include problem-solving skills, efficiency and time keeping skills, and communication skills - and be sure to include examples of situations that showcase them too!
3. Utilise the power of social media
Thanks to social media, it's easier than ever before to connect with and market yourself to potential employers - so if you're serious about your supply and logistics job search, you need to get social!
One of the most powerful platforms for job hunters is LinkedIn. With more than 875 million users worldwide, if you're searching for new opportunities, you need to create a LinkedIn profile.
From joining relevant industry groups and forums to following organisations you are keen to work with and expanding your professional network, there are plenty of ways that LinkedIn can help aid your job search.
Want to find out more? For further hints and tips on how to use LinkedIn, discover how to optimise your LinkedIn profile for your job search in this blog.
4. Team up with a specialist
Although it can be tempting to go it alone, when it comes to landing your ultimate supply and logistics job, it makes sense to team up with a specialist recruiter.
For starters, a specialist recruitment agency will know the supply and logistics industry back to front and will likely be the first to know of any new and exciting opportunities.
What's more, they'll also work with you, getting to know your skills, experience, and what you want from a role, so that they can match you to the best positions as soon as they become available.
Plus, when you work with a dedicated recruitment agency, they will support you every step of the way, from help with your CV to interview advice and more.
Supply & logistics jobs with M&E Global
If you're ready to kick off your career in supply and logistics, our team here at M&E Global would be more than happy to help!
We have several different jobs in logistics and supply chain management depending on your skillset and experience, such as:
Warehouse Workers
From processing incoming materials to packing, and shipping stock and to general warehouse organisation, this is the perfect role for anyone who loves to get truly hands-on in their work.
Forklift Operators
If you have a forklift license, love managing machinery, are all about safety and have strong organisational skills, this is the role for you.
Supply Technicians
A more senior role in the warehouse setting, this position will see you managing all supplies leaving and entering the facility, and beyond.
Make 2023 the year your career dreams become a reality
If you're excited by any of the roles above or would like to find out more about the supply and logistics opportunities we are currently working on, get in touch with our friendly team today.
In the meantime, why not download our guide to kick-starting your career in supply and logistics below for further information and top tips to get 2023 off to an incredible start!