Signing the Armed Forces Covenant and saluting those who serve
What is the Armed Forces Covenant?
The Armed Forces Covenant is a promise by the nation ensuring that those who serve or who have served in the armed forces are treated fairly and with respect in the communities, economy and society they serve.
At its heart, the covenant has two main principles: ensuring that no member of the Armed Forces community should face disadvantage in the provision of public and commercial services compared to any other citizen, and that in some circumstances, special treatment may be appropriate, especially for the injured or bereaved.
The covenant supports serving personnel, service leavers, reservists and their families as well as providing veteran support and is fulfilled by those committed to making a difference, which is why we are thrilled to have signed the covenant to show our support of military personnel.
Upholding the key principles of the covenant
At M&E, we recognise the value that serving personnel, reservists, veterans and military families bring to our business, and, as such, we seek to uphold the principles of the Armed Forces Covenant, by:
Continuing to offer work and veteran support to veterans of all ages, through the recognition of military skills and qualifications
Ensuring that job specifications do not exclude or deter service applicants through the requirement of formal qualifications when equivalent, relevant Armed Forces experience will meet the needs of the job
Maintaining a close relationship with the

Career Transition Partnership

(CTP) and regular attendance of CTP and

British Forces Resettlement Services

(BFRS) events
Striving to support the employment of service spouses and partners
Endeavouring to offer a degree of flexibility in granting leave for service spouses and partners before, during and after a partner's deployment by looking sympathetically at all leave requests
Supporting our employees who choose to be members of the reserve forces by seeking to accommodate reservists' training commitments wherever possible and offer extended leave periods if necessary and deemed appropriate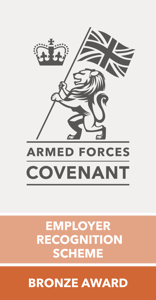 Contact M&E to find out more
If you're thinking about leaving the armed forces, working with an Armed Forces Friendly company such as M&E Global can open a number of doors.
Signing the Armed Forces Covenant highlights our dedication to helping ex-military and serving members of the Armed Forces to find the right roles to suit their skill set - so if you are thinking about leaving the military and want to find out more about how we can help and the types of roles we are currently working on, you can check out our current vacancies here.
Alternatively, for more information about our partnership with the Armed Forces Covenant, click here.