How to write a supply and logistics cover letter that gets you noticed
What makes logistics and supply chain jobs so great?
Well, supply and logistics is the backbone of modern society and one of the most essential industries in the world. After all, even the best-equipped organisations would grind to a halt if goods and provisions stopped flowing.
But that's not all: supply and logistics jobs are also fulfilling, varied, and challenging with plenty of opportunities for progression.
Plus, with a range of different roles available for all levels of experience, whether you want to work as a warehouse worker, a labourer, or a forklift operator, you're sure to a role that's right for you.
So, read on to find out how to write a supply and logistics cover letter that gets you noticed!
Why cover letters are so important
Your cover letter is often the first thing an employer will see when you apply for a supply and logistics job - so it's essential that you get it just right.
A cover letter should be professional and informative, yet to the point. You don't want to waffle on - but you do want to make sure you stand out from the crowd and highlight why you're the right person for the job. Not too much to ask, then!
Don't worry, though - at M&E Global, we've got decades of experience in the supply and logistics industry, and we've pooled our years of experience together to help you craft the perfect cover letter.
So, here are five important things to think about when writing your supply and logistics cover letter…
5 top tips for a supply and logistics cover letter that stands out
1. Use the right layout
Presentation and attention to detail are really important when it comes to writing a cover letter, so you need to make sure that your supply and logistics cover letter is well laid out and uses the right format.
We would recommend the following:
Your full address and the date at the top
A formal salutation and signature (think "Dear Hiring Manager" and "Yours sincerely)
An introductory paragraph that states your intention (for example, "I am writing to apply for the Warehouse Worker role"
Three - or a maximum of four! - paragraphs explaining your experience, your skills, and why you are right for the job
Sign off with your full name and contact details
2. Include the relevant experience
Your cover letter is the first chance you have to sell yourself to potential employers, so it's important to include information that's going to impress them up front.
Start with mentioning previous roles you've had that mean you're the right person for the job, how long you held these roles for, any experience you gained and any important achievements.
For example, if you have previously been employed as a warehouse worker where you assisted with the running of the warehouse, if you have experience unloading heavy materials to tight deadlines as a forklift operator or if you are coming from a military background in the Royal Logistics Corps, for example, make sure you say so!
By giving all this information up front, you're showing potential employers why you are right for the job and encouraging them to go on to read your CV.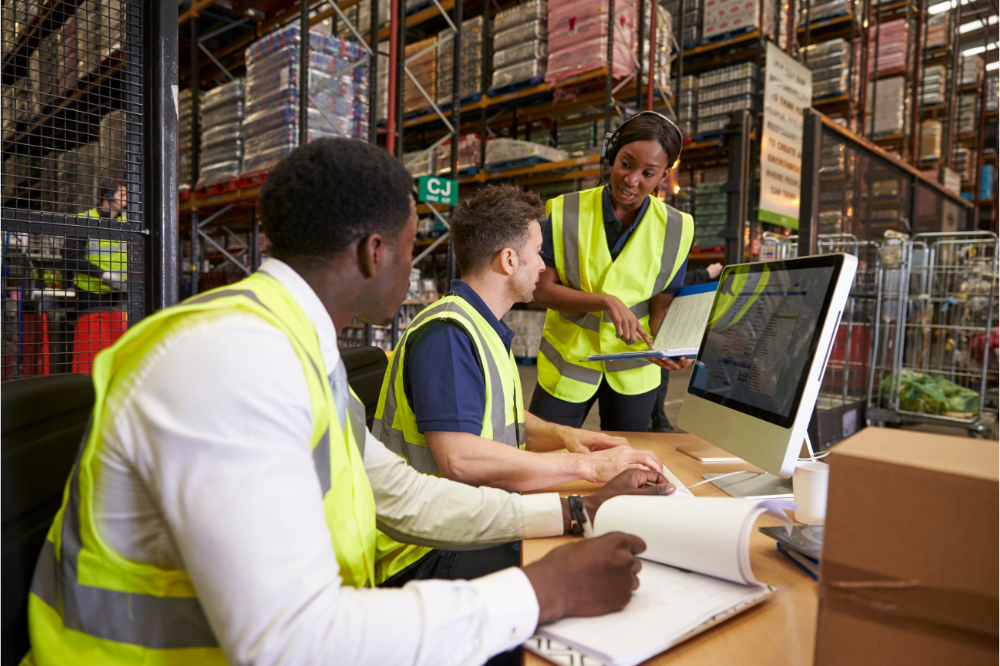 3. Shout out about your skills
From teamwork and problem-solving skills to the ability to work under pressure, there are a number of important qualities that potential employers look for when recruiting for supply and logistics roles.
Strong leadership skills, communication skills, time management skills, flexibility, and adaptability are all important skills to mention, whilst a systematic and strategic approach to work and exceptional attention to detail are essential skills for the supply and logistics industry too.
Plus, if you have any other transferable skills that you believe set you apart from the competition, be sure to include these as well!
4. Don't just repeat your CV
All too often when people write cover letters, they simply repeat the information that's on their CV - but it's important to use your cover letter more cleverly than that.
Whilst you should use your CV as a guide, your cover letter should be used to expand on the bullet points in your CV and paint a fuller picture of your experience.
It's important not to ramble on too much though, so be sure to just choose a couple of points that you are most proud of, or you believe are most relevant to the job description to expand on.
5. Tailor your cover letter for each role
You should also make sure you edit your cover letter for each job application - in fact, the amount of detail in a cover letter means that you absolutely have to tailor it for each application!
It's a good idea to have generic template that you use and then tweak the paragraphs to fit each role you apply for.
Of course, you can recycle some of the points and skills - but your cover letter is supposed to directly answer the job brief, so it's really important to make sure you look carefully at the job description and ensure your cover letter is in sync with it.
You should also find out the name of the hiring manager so you can personalise each cover letter too!
Bonus tip - don't forget to proofread!
Finally, make sure you triple check your cover letter for any spelling mistakes or typos. After all, there's no point talking about how great your attention to detail is, only to have a cover letter riddled with mistakes!
As well as using the spell check function on your computer, why not get a friend or family member to have a read over it with a fresh pair of eyes to make sure there aren't any errors you might have missed?
Ready to find your next supply and logistics role?
At M&E Global, we have years of experience in matching supply and logistics professionals to their dream jobs. So, if you're looking to make a move and are keen to explore supply and logistics opportunities out there, be sure to get in touch with our team today.
We currently have a number of fantastic logistics and supply chain jobs available, so if you're ready to take the next step in your career, contact us today. Alternatively, don't miss our free, comprehensive guide on how to kick-start your career in supply and logistics.