We are thrilled to be part of the 2021 Sunday Times HSBC International Track 200, a league table of Britain's private companies with the fastest-growing international sales. Companies featured on the league table have an average growth of 55% in international sales over the past two years – and as one of just 13 recruitment consultancies on the list, we're in pretty good company alongside the likes of Chilly's Bottles, Five Guys, and Huel on this year's league table.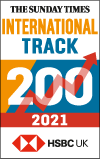 About International Track 200
Fast Track is a leading research and events company that has created a network of the UK's top private companies through rankings in The Sunday Times. Over the past 24 years, more than 5,600 companies have featured on the Fast Track league tables, including half of the UK's private companies with profits over £50 million or sales over £250 million. Previous International Track 200 alumni include Dyson, JCB, Skyscanner and Pets At Home - so to say we are delighted to have joined the league is an understatement!
What it means for M&E
For over 20 years, M&E Global has worked hard to build up a strong reputation in specialist international defence contract recruitment, working in demanding and austere environments across the globe - and our ranking on the Sunday Times International Track 200 is testament to the hard work, passion and dedication of our team.

Managing Director Gordon Woodward says, "It is a real honour to be featured on the HSBC Sunday Times International Track 200 league table alongside such prestigious businesses. M&E Global has worked at the forefront of defence recruitment for more than 20 years, and we are truly passionate about placing highly skilled candidates into specialist defence contract roles. It's fantastic to see that all of our hard work has paid off!".
About M&E Global
M&E Global are experts in defence recruitment and offer expertise in aviation, land and marine environments. We specialise in placing skilled contract workers into contract roles across maintenance, logistics and transportation, with a focus on helping ex-military personnel move back to civilian employment - as highlighted by our signing of the Armed Forces Covenant. 

There is nothing we don't know about placing highly skilled candidates from the UK and Europe into overseas defence contract jobs, and we continue to build on this strong foundation of specialist recruitment services and project solutions. So, whether you are a client looking for skilled contract workers or are currently looking for new opportunities yourself, contact M&E today to find out more about how we can help.

Alternatively, you can view the current vacancies we are working on here.