Discover the 6 most scenic HGV driver routes in Europe
From flexible working hours to job security and the potential for high rates of pay, the reasons to pursue this kind of work are undeniable.

What's more, with the current shortage of HGV drivers, now's a better time than ever to consider it as a career, as the competition is minimal for the roles currently available.

However, one of the best parts about HGV driving jobs that isn't often discussed is the incredible driving routes you can take around the world – and Europe is famous for a number of them!

Read on to discover some of them, as well as how you could find yourself experiencing them in person through a role with M&E Global...
Here are 6 of the most scenic HGV driver routes in Europe:
1. Black Forest, Germany
Considered one of the most beautiful holiday regions in Germany, the Black Forest route is a great one to kick off with!

This route, which links Baden-Baden to Freiburg, will take you on a fairytale journey through dense pinewood views of the Black Forest valleys, as well as numerous historic towns that inspired many of the famous stories written by the Brothers Grimm.

You'll also cross paths with landmark Triberg Waterfalls – one of the highest waterfalls in Germany. Plus, if you fancy a pitstop, you can visit one of the en-route town's cafes for a slice of their appropriately-named dessert – the Black Forest Gateau!
2. Stelvio Pass, Italy
If you're a fan of BBC's Top Gear, this road might ring a bell from the episode "In search of driving heaven."

In it, presenter Jeremy Clarkson described Stelvio Pass as "the greatest driving road in the world" – and it's easy to see why!

At 9,045 feet above sea level, the route begins in thick woodlands before opening up to a vast and surreal rocky landscape.

And at approximately 29 miles long and with around 48 switchbacks to contend with, this road is certainly a challenge – but absolutely worth the trip!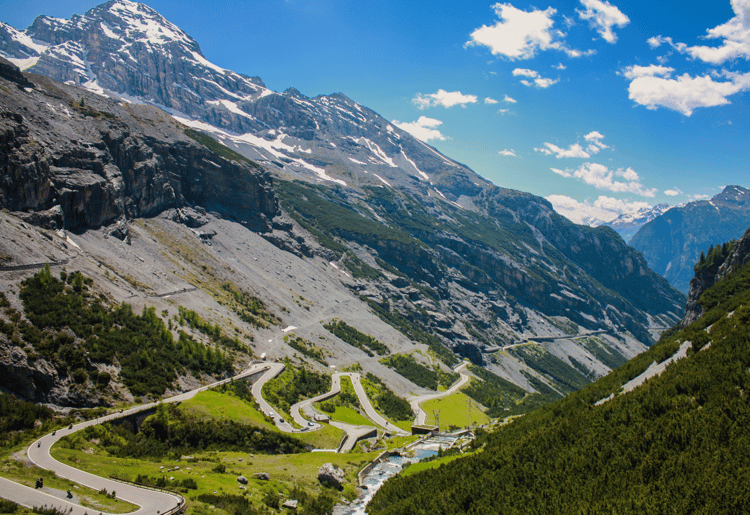 3. Carretera Sa Calobra, Spain
"The snake" road in Spain (so named for its seemingly endless bends and curves) offers one of Mallorca's greatest attractions – and, arguably, one of the most incredible panoramic drives on earth.

Built manually from 30,000 cubic meters of stone, the route begins in the municipality of Escorca, and ends at Cala Tuent Beach.

Along the way, it boasts spectacular views of Mallorca (including perhaps it's very best view at "Nus de sa tie" – Knot of the tie – where the road passes under itself) with the Mediterranean as an idyllic backdrop.
4. A82 Road, Scotland
At 167 miles long, running between Glasgow and Inverness, the A82 boasts some of Scotland's most incredible scenery.

Along the route you'll be treated to the visual delights of Loch Lomond's and Loch Ness's shores, Rannoch Moor Bridge, mountain rivers and more.

It also serves as the main route for heavy goods transportation in the area, so you'll likely pass many others carrying out HGV driving jobs on your way!
5. 100 Bends Road, Poland
If mountain views take your breath away, then you're in for a treat on 100 Bends Road in Poland!

The 22-kilometer drive – so named for its exceptional winds and bends – links Kudowa-Zdrój to Radków, and promises sightings of the Klodzka Valley's greatest landmarks, including "Table Mountains" National Park ("Gory Stolowe" in Polish), alongside illustrious forests and jaw-dropping rock formations.
6. Castle Road, Germany
Starting in Mannheim – where many of our contract roles in Germany are based – this incredible German road skims the border of Prague and offers a truly unique tour of 70 amazing different castles.

At 745 miles long, this is the longest of the driving routes shared in this blog – and perhaps the most impressive!
Fancy driving these routes yourself?
Here at M&E, we have a variety of defence transportation contract roles available in many of the areas shared in this blog, including Poland, Germany and parts of the UK.

So, if you're thinking of making the move to Europe for work and want to find out more about what's involved, get in touch with the team at M&E Global today.

We'd be delighted to chat to you about your current skillset and experience, and the opportunities we have available that we think you'll be suitable for – from HGV driving jobs to mechanic roles and more.